Regular price
Sale price
$6.95 USD
Unit price
per
Sale
Sold out
Share
SIGNED HARDCOVER COLLECTOR'S EDITION $24.95
AUDIO BOOK $10.95
DIGITAL eBOOK $6.95
Biker to Sailor (2015)

This is the story of Bob Bitchin, who went from outlaw biker and bodyguard for Evel Knievel to sailing on the Flagship for Green Peace that had no engine and used kerosene running lights. Bob traded life on two wheels to experiencing a hurricane in Cabo San Lucas where 27 boats ended up blown onto the beach. He then sailed across the pacific with nothing but a sextant, making an 800 mile "error" and ended up arriving as a volcano is erupting! If you've ever wondered where the saying "Attitude is the difference between ordeal and adventure" came from, it's in this book.
By the creator, publisher, and editor of Latitudes & Attitudes, Cruising Outpost, Biker Lifestyle and Tattoo Magazines. This is Bob's 8th book, and it's all true (well, how he remembers it anyway!).
Shipping: 3-5 days
What People Are Saying...
"I always wondered how a tattoo-covered, bigger than life, irrepressible biker-dude decided to take up sailing and went on to start his very own cruising magazine. In his own inimitable way, Bob has filled in the blanks, telling an only-in-America tale."
Lin Pardey - Voyager, author, publisher
"Bob Bitchin, a larger than life story teller, does it again. Here is another book illustrating how we get just one shot at this thing called life and how possible it is to switch gears and experience radically different lifestyles, given the will to try, the desire to succeed. Bob practices what he preaches and writes about—not dreaming the life, but living the dream—and inspires by his example. "
Tania Aebi - Author, world-class sailor
 "As a young man in my early 30's making the transition from the Financial industry to Boating I gotta tell was I intimated coming into the Marine Industry- then I meet Bob Bitchin! Needless to say everything changed- someone who drank, cursed, bullshitted and whistled at women as they walked by- all while at work! I knew instantly- I was home."
Eric Kyle - Publisher Great Lakes Scuttlebutt and Latitudes & Attitudes magazines
"One look at Bob Bitchin, and you know you are not dealing with your typical Yacht Club Cruiser. I have yet to meet anybody in the Cruising Community who seems more out of place, but he really knows how to make that same Community stop and take a look at how we do things, laugh at ourselves and just get out there and go sailing. Even if you don't have the "right" outfit. Thanks Bob, for stirring things up a bit and giving cruisers a fresh outlook."
Capt. Holly Scott - Owner and author of Charlie's Charts Cruising Guides
"Is Bob Bitchin for real or is he just a caricature of a biker guy turned cruiser? His transition from the black leather look and proclivities may never quite attain the buttoned up yacht club blazer type but he's moved a bit in that direction. Let's just name Bob the Father of Outlaw Cruising and leave it at that. Biker turned cruiser? It wasn't easy. Read this book about Bob's earliest days afloat and the lessons learned on the water: warts, drugs, nakedness, thorny bits and all."
Karen Larson - Founder, Good Old Boat magazine
"The Bitchin' One does it again, proving that even longhaired, tattooed, bike-booted wild cards can become… well, not "yachtsmen", but serious bluewater sailors. How he did it himself is quite a tale!"
Sally Erdle - Editor, Caribbean Compass magazine
"Bob Bitchin is a living God. He's bigger than the universe and as round as the fattest Chopper tire ever made. His significance to the Bikerworld was and is magnificent as a cultural leader, publisher, and book author. He is a warrior freedom fighter of the first order, a captain of creativity in the biker world order, and a world traveler on motorcycles and sail boats. And best of all, he maintains a glowing glint in his eyes, and a broad smile at all times."
Keith "Bandit" Ball - Editor, Easyriders magazine for over 30 years
"This new book chronicles the early Bitchin and not surprisingly it's a rollicking ride. The cast of characters, from Evel Knievel to Worm, a beloved snake that Bob claims is the perfect boat pet, to a harem of early girlfriends, would seem outrageous to anyone but Bob. He survives his early voyages with mix of moxie and luck and always ends up with a damn good story afterwards. Still Bob always circles back to his deep passions, this man loves to sail and he loves to write and he's a master of both."
John Kretschmer - Author, world-class sailor
View full details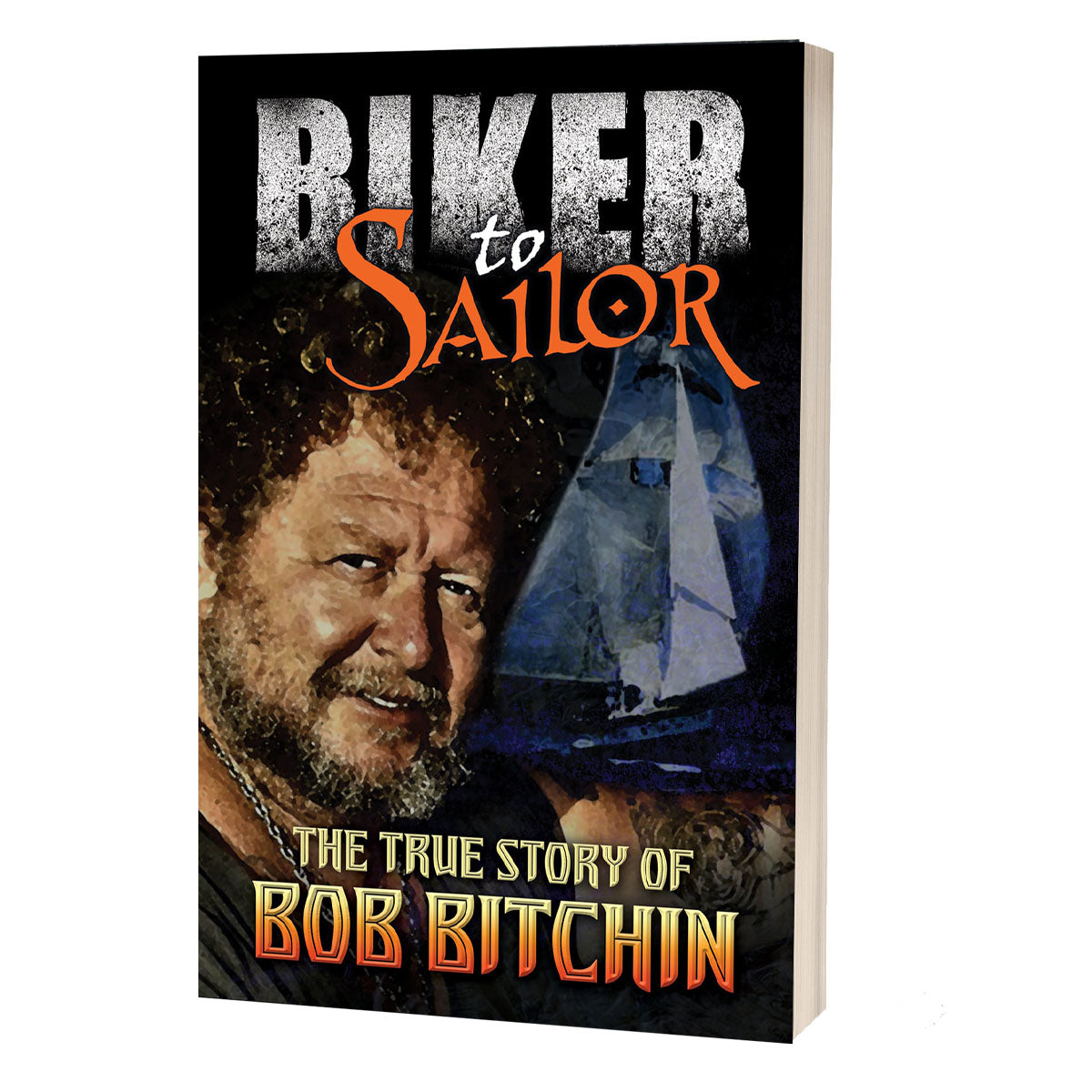 Shipping

Shipping of apparel and home goods takes 5-14 days. Hardcover books ship in 3-5 days.

Returns

All sales final. Exchanges can be made for defective or broken items only. No exchanges for wrong shirt sizes.